Micro-influencers Are Overrated
When it comes to influencer marketing bigger isn't better.
Micro isn't better. Better is better.
Touted as having higher engagement rates, lower pricing, and more credibility than their 'macro' counterparts micro-influencers are the hottest category of creator to hire.
This is silly.
Micro-influencers being better or more effective is not a universal marketing principle. Leveraging micro-influencers is a tactic, and one that is far from a silver bullet.
The rise in popularity of micro-influencers coincides with the rise of influencer marketplaces. Influencer marketplaces are self-service platforms where brands share opportunities for creators to do paid endorsements.
Working with micro-influencers via marketplaces may seem to be a scalable way to do influencer marketing but it is wrought with issues.
First and foremost there is the common misconception that micro-influencers are more engaging. While that is often true that micro-influencers have higher engagement than macro influencers on a per capita basis, that doesn't mean that engagement translates to a more efficient cost per engagement (CPE) for advertisers.
According to data compiled by Andrew Kamphey of Influencer's Weekly, it is actually more efficient to work with larger influencers one a CPE basis.
As influencers and micro-influencers get bigger their engagement generally declines a bit, but their costs don't scale at the same rate.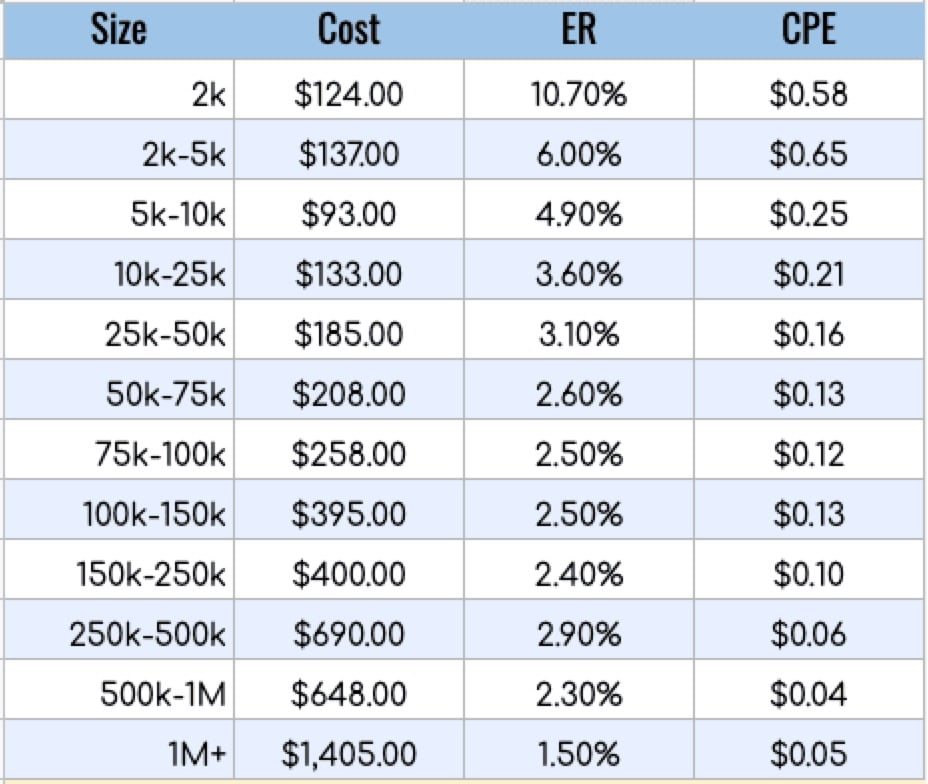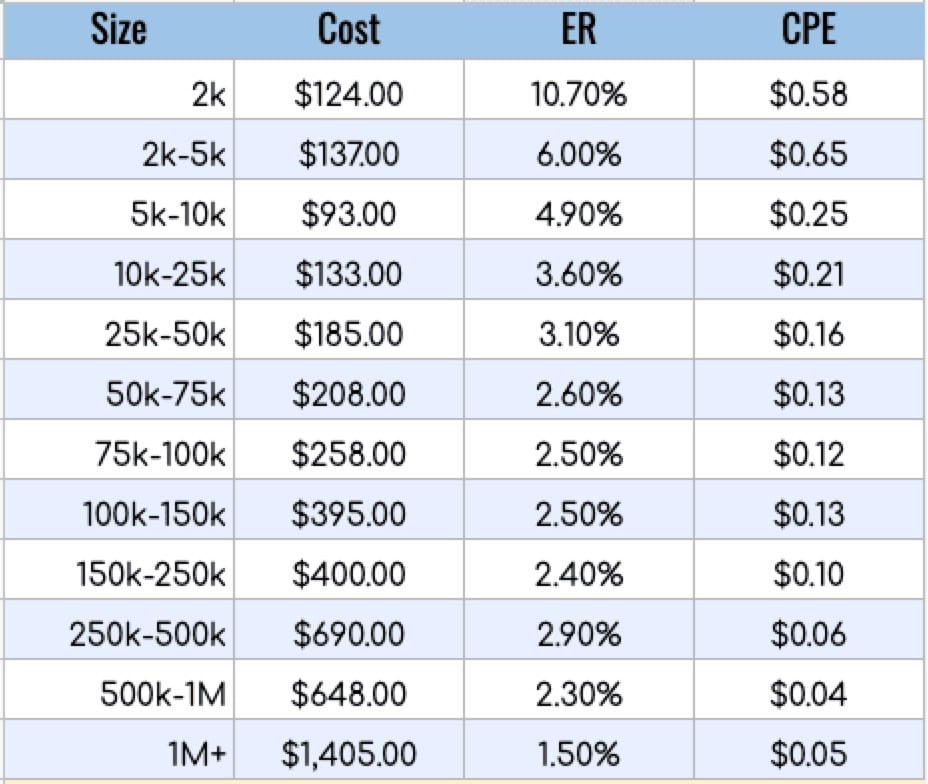 One factor often overlooked in working with influencers is not just the hard costs, but the time spent to manage influencers. Working directly with an influencer that has 10 million subscribers is often just as much work as working with an influencer that has 10 thousand.
Even if you work with influencers via influencer marketplaces, taking the time to review content and managing quality control becomes a huge issue.
Within these market places brands are asking creators to opt into campaigns based on a brief that has been posted. You are not spending time working closely with a creator via meetings and phone calls. Oftentimes a brief is the only thing the creator gets to their hands on to get to know the brand before going on to develop promotions even without the products themselves.
Credibility is a big issue as well (one that I imagine will become a bigger issue as time goes on). Creators looking to make money will need to go from brand to brand, oftentimes working with competitors in the same category.
At the same time the inverse approach, of working exclusively with the top tier influencers isn't a perfect solution either. Just because some has scale doesn't mean they're relevant to your audience.
Top tier creators are often bombarded with brand deals and opportunities. Their ability to invest in a partnership is constrained. You don't want to work with someone that just won't or can't make the time for you.
There is no easy solution and therein lies the opportunity.
Few brands and marketers are willing to put in the time and effort to focus on identifying creators that are truly relevant, then having conversations with them to gauge interest, and then work with them deeply and make them real partners.
As the saying goes, the last mile is always the least crowded.
None of this is rocket science, but like most good things, it takes patience, focus, and a long-term outlook vs looking for quick fix solutions.