Gawker & Kinja: The Intersection of Tech & Content Creation
The media landscape is changing. It's something we're hearing all the time. However, it's unique to the last few years, and the internet in general, that so many industries are merging and becoming 'vertically integrated' (feel as if I'm channeling my inner Jack Donaghy as I write that). Platforms are become media companies and vice versa. It's akin to RCA (the first TV manufacturer) also building and operating NBC in the 1950's. The industries were so very different and the barriers to entry so high, it wouldn't happen. However, today we're seeing an intersection of technology and entertainment and media – the RCA's of today, the platforms, (your Facebook's, YouTube, Twitters) are becoming content creators and vice versa.
Some recent examples – YouTube, a technology platform, got into the content business by investing over $150 million in new channels, and plans to invest even more in the future. Twitter has long been rumored to be getting into the original content space.
On the opposite end of the spectrum we're seeing media companies adopting many of the features of popular tech platforms to help scale. Buzzfeed has their partner pages, which allow individuals AND brands to create content and build their own followings on the platform. These are not dissimilar from fan and profile pages on Facebook or any other social media platform.
Similarly, Gawker formally announced the launch of their Kinja platform. For the uninitiated Gawker is the independent blog network, which has over 36,000,000 monthly US readers per month from eight blogs across a number of content verticals (Gaming, Tech, Lifehacking, etc). Gawker is huge, and they've built their brand and business on the page views of their incredibly snarky and, at times, brazen reporting.
While Kinja is being positioned largely as a souped up commenting platform – when you scratch the surface there's actually much more to it. They're creating a social platform for brands and individuals to create content, interact with each other, and cultivate a following. As Gawker's founder, Nick Denton put it, "The original idea of blog publishing was that writer and reader would be on the same level. That it would be a conversation – not a lecture. People lost sight of that. We didn't."
Sounds like another social network. You can create profile. Check. Interact with the community. Check. Post content. Check. Build a following and follow others. Check and check.
This is a smart play on Gawker's part (if they can pull it off without diluting their brand). From an economic standpoint they have a lot to gain. They get brands paying to grow their Kinja followings, and you have individuals generating pageviews for free, which in turn opens up more ad inventory.
The Brands
Brands are buying into the 'always on' approach across multiple platforms. It's great for the platforms, because you have brands both creating content, which generate page views and ad revenue, AND you have them spending ad dollars to grow their account. They invest in the platform over time, coming back again and again. I imagine the hope for the ad team at Gawker is that brands view their Kinja pages the same way they view their Facebook or Twitter communities – as one dick measuring contest. How many fans do you have? Oh, sheesh, well look at the size of my Kinja. With each brand dumping more and more money into the platform to generate more fans and followers than their closest competitors. A few brands have already jumped into the fray, there's already Playboy and IBM dabbling in the space.
Individuals As Content Creators
With Kinja, users are doing far more than commenting. They've go profiles the same way paid editors are. You build a Kinja profile, can get featured placement the same way a paid Gawker editor can, as well as build followers. Naturally, the gamification and opportunity to build a following incentivizes people to continue to build content.
Furthermore, Gawker has recently been prompting readers to create content, with many posts being little more than a byline with the prompt to 'discuss'. This is not too far off from Facebook's 'What's on your mind?'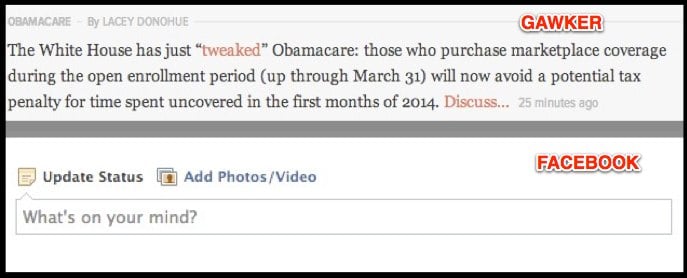 So is Gawker a media company or technology platform? Does it matter? If Kinja takes off and there are hundreds of thousands of amazing pieces of content being created each day, will a traditional editorial staff be needed? Can a media company ever build a platform that would compete with Twitter and Facebook in terms of scale?
Early data indicates that Kinja is generating some traction, currently generating nearly 2.2 million monthly views (accord to quantcast). However, if history is any indication it could be that technology will win out in the long run in taking control of media and entertainment.  Comcast bought NBC back in 2009, Netflix has been producing original content with a great deal of success. Google and its recent acquisition of Frommer's, Mark Cuban's AXS TV and their original programming initiatives, the list goes on. On the flipside you have companies like NewsCorp who crashed and burned with The Daily.
That said, I have a lot more faith in Denton's ability to create and cultivate an ongoing online community than just about anyone else out there. He's managed to reinvent Gawker time and time again – expanding it from the niche New York media/flameball site to one of the most influential media properties on the planet.
I admire the Denton and Gawker's willingness to invent, tweak, and adapt to a changing media landscape. It's that desire to take risks and innovate that most other media companies (traditional in particular) could learn something from before being left in the dust. Why did newspapers wait for print to be irrelevant before putting a focus on digital? Denton clearly sees things changing and is adapting with the times.
While we see how this whole thing shakes out you can follow me on my Kinja here. If you need any help reading my post on how to set up a Kinja profile, you can check out my blog post on the matter here.