FACEBOOK LASSO (THE TIKTOK COMPETITOR) EXPLAINED
In November of 2018, Facebook quietly released Lasso, which a spokesperson described as "a new standalone app for short-form, entertaining videos — from comedy to beauty to fitness and more."
The app is strikingly similar to the wildly popular app, TikTok, which is owned by the Chinese tech company, ByteDance. TikTok has grown incredibly quickly, with hundreds of millions of active users worldwide, and is increasingly perceived as a threat to Facebook amongst the youth market.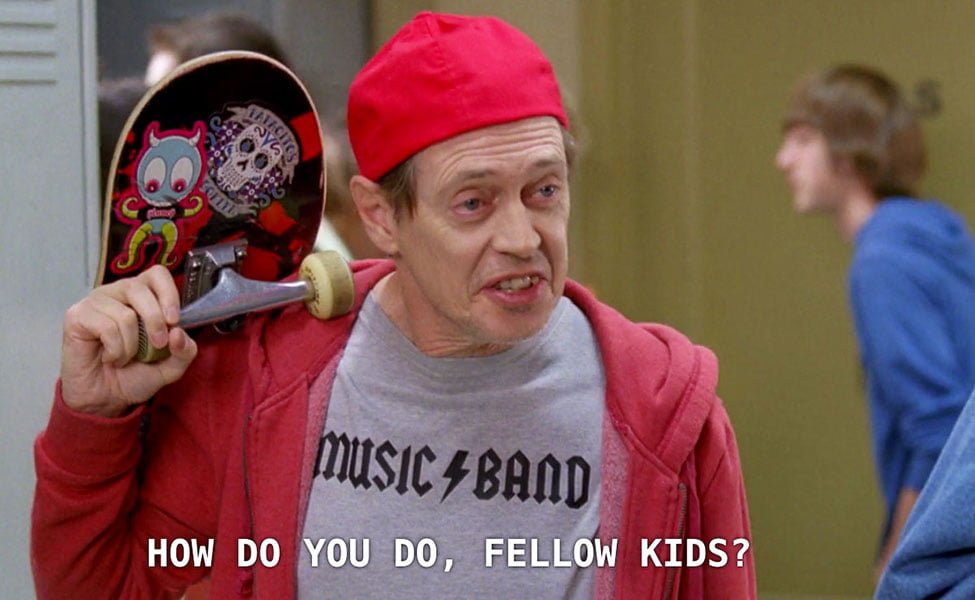 What is Facebook Lasso?
Facebook Lasso is a social network where users create 15 second videos. Users can can sync their videos to music and audio tracks, all while layering on various visual effects.
Lasso is primarily focused around a full screen 'Recommended' video feed serving you one video at a time where a user can swipe up or down to see algorithmically recommended videos. Viewers can like, comment, or click through to a users profile and choose to follow their favorite creators.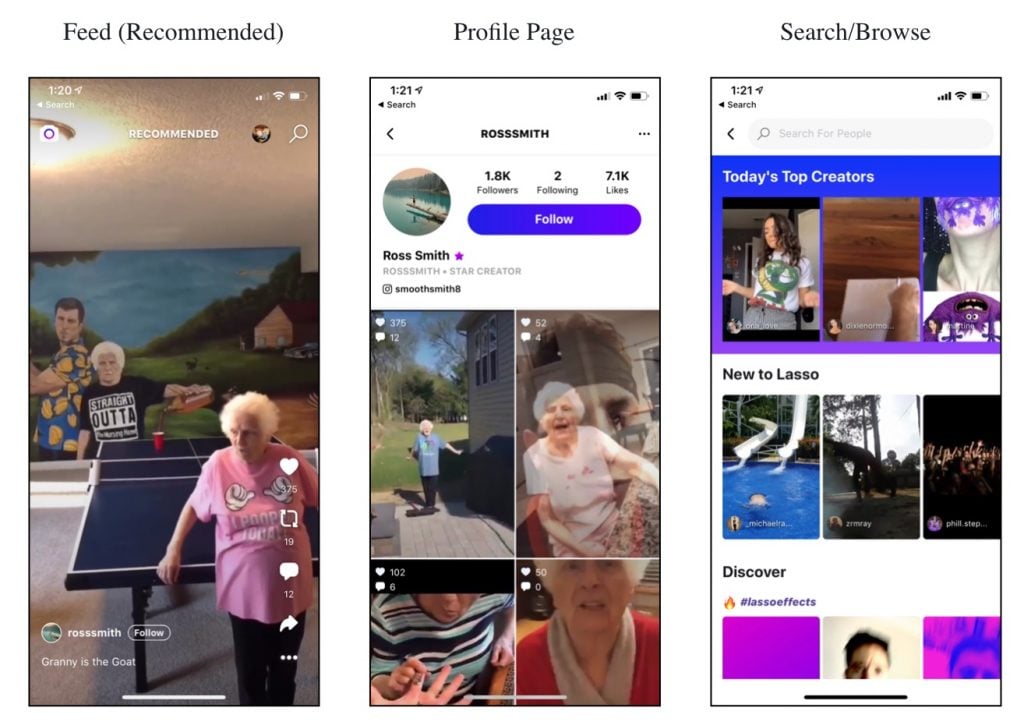 Similar to TikTok, Lasso has a browse page largely organized around popular hashtags (reflecting the popular challenges/trends on the platform). Lasso deviates a bit from TikTok in that at the top of the browse page Lasso features 'Today's Top Creators' whereas TikTok uses similar real estate to highlight a variety of initiatives from popular challenges, to new creators on the platform, as well as brand activations.
Here's the official description of Lasso from their IOS app store page:
Lasso makes it easy for anyone to create and share short videos with fun effects. Follow creators, discover popular video trends and join in by putting your own spin on them. Once you've found a type of video that's trending, whether it's #comedy or #fail, you can use the in-app camera to put your own spin on it with special effects, music and editing tools. Add hashtags to your video to share it with the world! You can also add your videos directly to your Facebook story.

COOL CAMERA TOOLS AND EFFECTS

Get high-quality video editing tools, effects, text on video tools, music and more from the in-app camera.

A MASSIVE MUSIC LIBRARY

Lasso's music library is one of the biggest. From pop hits to vintage classics, you'll find whatever song you need to take your videos to the next level.

THE LATEST HASHTAGS AND CHALLENGES

Lasso lets you know which hashtags are trending and which ones might be soon. Be one of the first people to discover a new trend or one of the first to create a video for it!

SHARE DIRECTLY TO YOUR STORY

Lasso seamlessly connects to Facebook so you can post your videos to your story with a single tap. Whether you want your video to show on all your social profiles or just in one place, you have control over what you share and where it goes.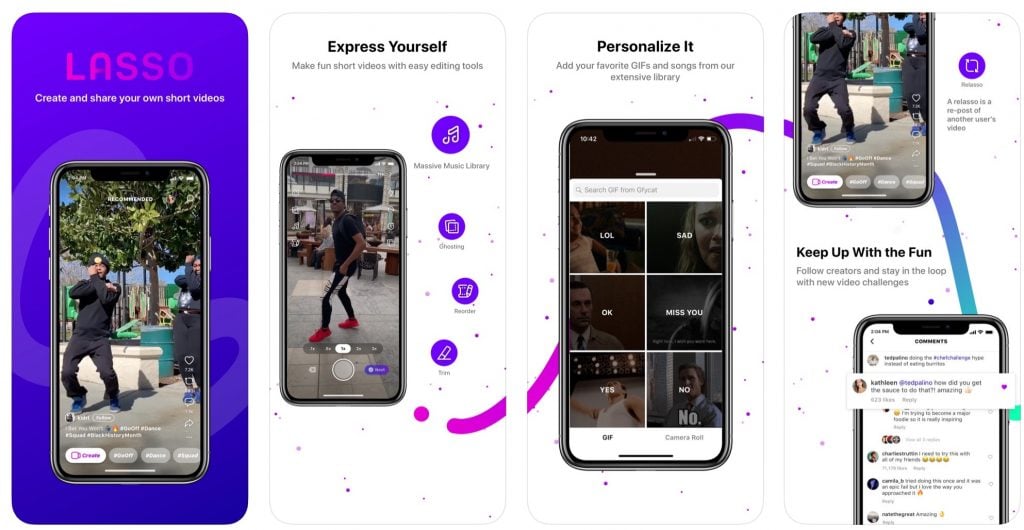 According to TechCrunch, Lasso was developed by Facebook's Watch team under leadership from Facebook's lead product designer, Brady Voss.
Why did Facebook launch Lasso?
Undoubtedly Facebook sees TikTok as a threat.
Tik Tok's global user base is massive and growing quickly. TikTok platform has a reported 800 million total installs to date (not including Android uses in China) and is frequently ranked as the No. 1 free app in Apple's App Store.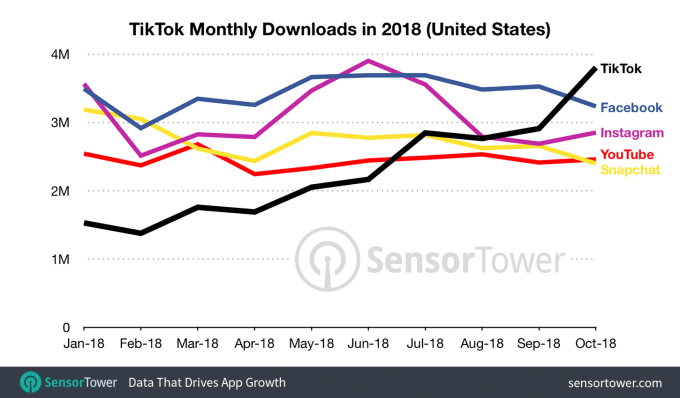 According to Variety, "the U.S. Global downloads of TikTok for the month of October 2018 exceeded 68 million, a year-over-year increase of 395%; that included about 6 million in the U.S."
Beyond the sheer volume of users, the thing TikTok has which Facebook does not, is a younger/teen audience, an estimate 66% of TikTok users are younger than 30-years-old.
In recent years younger consumers have fled Facebook (or never signed up to begin with). According to a 2018 PEW study Facebook isn't even in the top three most used social networks amongst teens. Although Facebook does own Instagram, which still has a firm hold on the teen usage, it is worth noting that since 2015 Facebook went from having the #1 & #2 most popular social networks amongst teens to #2 & #4.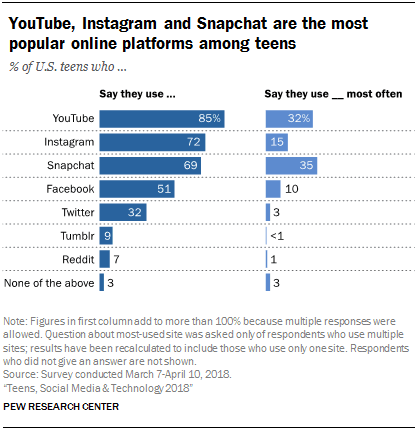 According to a Piper Jaffray survey just 5 percent of U.S. teens cite Facebook as their favorite social platform and the percentage who use it monthly has dropped from 60 percent to 36 percent since Spring 2016.
With so many surveys showing Facebook is losing its grip on younger consumers its clear why they'd see an app gaining traction amongst hundreds of millions of teens as a threat.
How Is FB Lasso performing so far?
By all accounts Lasso is not attracting much of an audience. According to CNBC, as of February of 2019, Lasso had been downloaded by an 70,000 U.S. users – in the same period of time TikTok had been downloaded by 40 million U.S. users.
In exploring the Lasso community none of the creators on the platform have significant followings. I never found anyone with more than 3.5K followers. In fact, the most popular creator I could find was James Henry, with 3.1K followers on Lasso vs his 1.6 million followers on TikTok.
Meanwhile, there are dozens, if not hundreds of creators on TikTok with millions of followers. TikTok has even gotten so popular it has begun to attract mainstream celebrities such as Arnold Schwarzenegger, DJ Khaled, and Ryan Seacrest (to name a few).
In exploring the Lasso community there doesn't appear to be much happening. I noticed that the level of engagement it takes to be designated the 'Top Creator Of The Day' is very low. In the days I explored the app the content creators featured in the 'Top Creators Of The Day' section had fewer than 5 comments.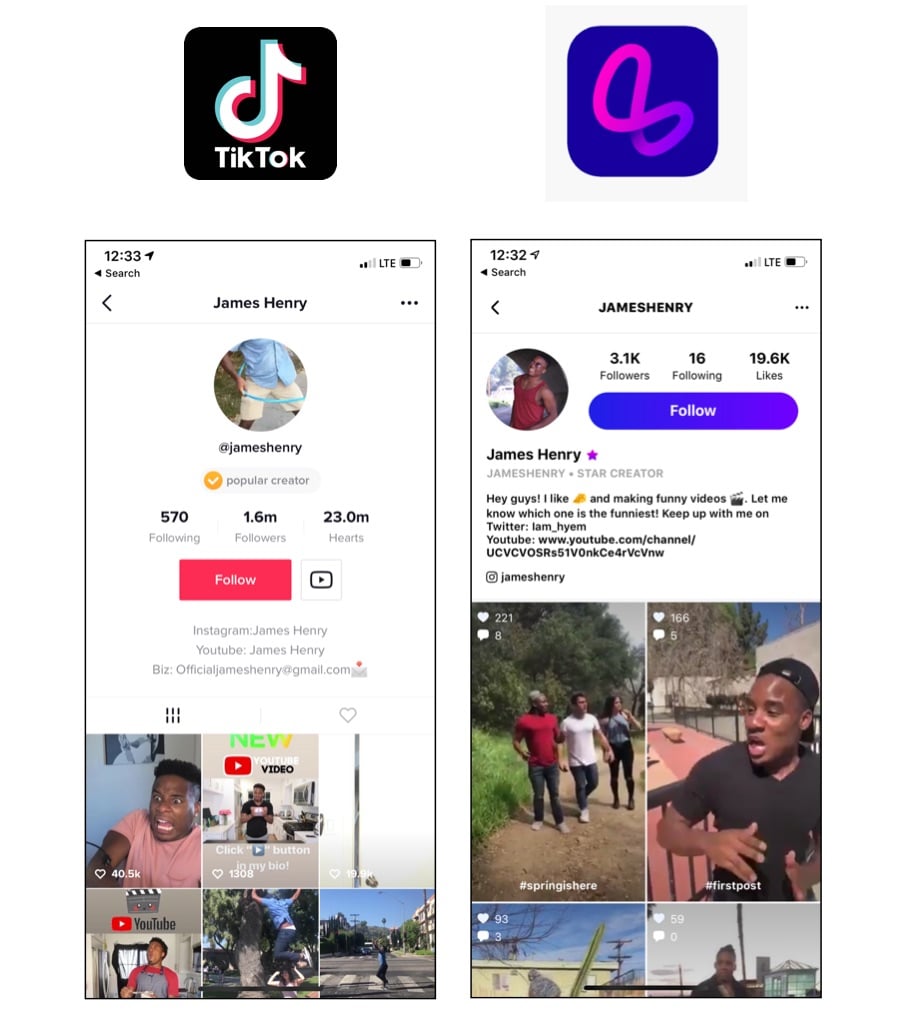 Currently, Lasso isn't even amongst the top 200 most downloaded free IOS apps, while TikTok has been consistently been in the top 20 (occasionally hitting the #1 spot). To top it off Lasso has 4.3 stars in the IOS Store and 3.5 rating in the Google App store. Meanwhile TikTok has a significanly higher rating of 4.8 stars in the IOS App store and 4.4 stars in the Google App store.
Lasso's social media following is tiny. As of April 2019, Lasso has 141 followers on Twitter, the Lasso Facebook page only has 1,928 followers, and their Instagram has just under 7.5K followers. In all Lasso's social media footprint is under 10,000 fans and followers while TikTok has over 9 Million followers on their US focused Facebook page alone.
How is Facebook promoting Lasso?
Ultimately, it just doesn't appear as though Facebook is doing much to promote their new app. Outside of partnering with a handful of creators from other platforms to appear in a handful of Facebook ads, the only other promotion that I could find was that they sponsored a party at Playlist Live, a popular influencer convention.
When visiting Lasso's Facebook page, I took a look at the ads that they're running to drive installs. All of the 24 different ad types Lasso is running targeting US & Mexico audiences feature a handful of 'Star' creators from the platform.
Lasso appears to give these creators they've partnered with a 'star' designation, the Lasso equivalent of a verified account. When looking at the same featured creators on other platforms they tend to have hundreds of thousands to several million fans and followers across TikTok, YouTube, and Instagram.
Meanwhile has been incredibly aggressive in building a community and actively acquiring users, and courting influencers. Reports point to hundreds of millions of dollars in ad dollars to promote TikTok. Apparently, in Q1 of 2019 3 percent of all ads seen by users of Facebook's Android app were promoting TikTok.
How does Lasso fit into Facebook's video strategy?
Video is going to play an important role in unlocking ad dollars for Facebook, and it undoubtedly wants a significant piece of the estimated $16 billion that eMarketer estimates will be spent on mobile video ads in 2019.
However, in spite of Facebook's efforts to chip away at YouTube's market share, they've had mixed results. Facebook launched Facebook Watch, which has YouTube style pages and functionality in 2017. In 2018, Facebook launched IGTV as a standalone video app meant to appeal to the more vlog/influencer crowd. Yet, none of these initiatives have come close to becoming a true 'YouTube killer'.
IGTV is largely considered a flop. Of the top 10 Instagrammers, only half have ever even posted to the IGTV platform. Furthermore, Facebook recently began pushing IGTV videos into the Instagram feed, a move many point to as evidence of a need to drive audience to a largely dormant platform.
Facebook is seeing slightly better luck with Watch than they are with IGTV but still coming up short. According to a Morgan Stanley study 75% of Facebook Watch users are viewing short-form videos (under 20 minutes) weekly, and 78% of respondents said they have used YouTube in the last 12 months, compared with 43% for Facebook Watch. As a result, YouTube "remains the online video leader."
What next for Facebook Lasso?
We've seen Facebook in situations similar to the one it is in today with TikTok – where an upstart social network is garnering the youth audience.
With the advent of Snapchat, Facebook responded by deploying at least four Snapchat copycats — Poke, Slingshot, Lifestage and Flash — before simply taking the Stories feature that was so popular within Snapchat and copying it to Instagram. Shortly after taking the stories feature and applying it to Instagram, Snapchat usage plummeted.
Assuming TikTok continues to grow, its likely we'll see more investment in Lasso or the development of additional TikTok/Lasso – like apps from Facebook. Ultimately, if that doesn't work its likely we'll see TikTok features copied and integrated throughout the Facebook ecosystem.
However, with TikTok, Facebook has a far more formidable competitor than they had with Snapchat. TikTok is part of ByteDance a Chinese based firm which has a $75 billion valuation, and recently raised $3 Billion with Softbank.
Although, Lasso doesn't appear to be successful, I expect it to be one of many attempts by Facebook to grow a younger user base and fend off TikTok's stranglehold on teens. With billions at its disposal, and a track record of buying or copying (in order to smother) emerging competitors, it is unlikely this is the only TikTok defense Facebook has in the works.