YouTube Has Been Building A TikTok Competitor For Some Time
YouTube is working on a TikTok Competitor.
YouTube Shorts
First reported by The Information, the YouTube version of TikTok has been dubbed 'Shorts'. The TikTok competitor is rumored to live within the existing YouTube app and take advantage of YouTube's music licensing deals.
This doesn't come as a total shock. YouTube has been quietly incorporating TikTok style features for some time now. Over the last month or so YouTube's app has changed features that mirror TikTok in three big ways:
1) Emphasizing categories vs search
2) Curating content experiences
3) Providing content prompts
CATEGORIES VS SEARCH
Last week I wrote about how YouTube shifted its emphasis from search to more curated experiences (like TikTok) and was bracketing content categories in a manner very similar to hashtag challenges.
Historically, YouTube placed an emphasis on search (it being the second largest search engine). Recently, the search feature was changed to 'explore'. Now when you click on 'explore', there are categories of content featured that site above recommended and trending videos. Previously the app had trending and recommended content. This mimics TikTok's has 'discover' feature.
At the top of TikTok's discover page is curated content categories, hashtag challenges, and list of trending hashtags.
YouTube is evolving from specific video recommendations to an emphasis on broader categories.
CURATED CONTENT
When you click on a content category there's a header and curated list of videos to watch. This is layout is similar TikTok.
On TikTok if you click through to one of the content categories or hashtag challenge there's a banner across the top, description of the content and then a curated list of TikTok's to watch.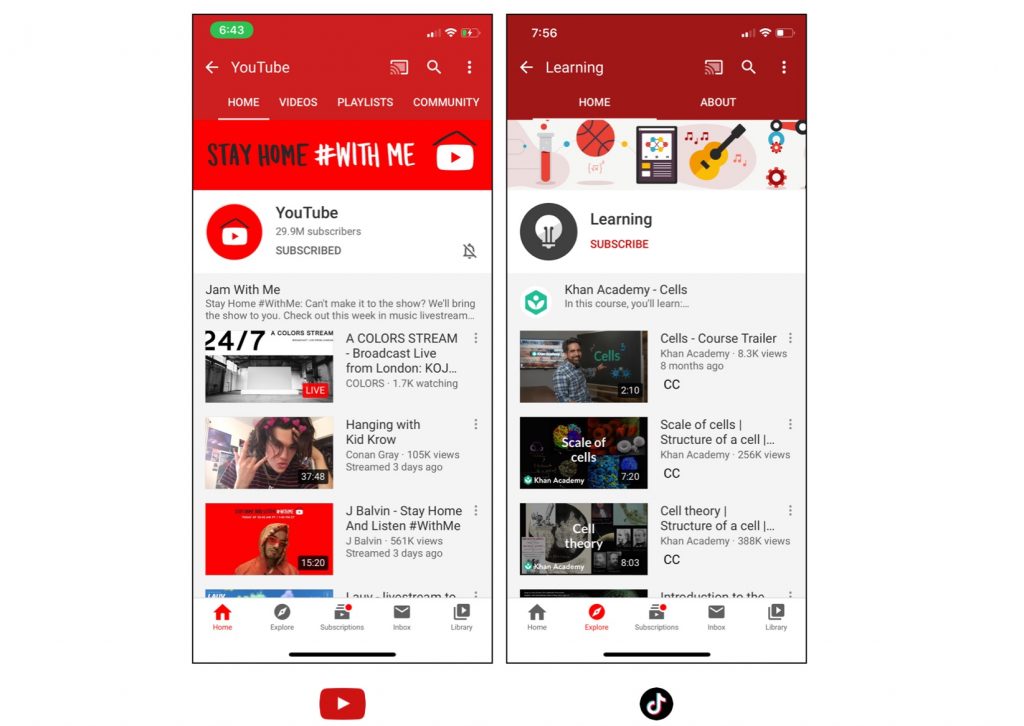 PROMPTING CONTENT CREATION
YouTube seems to be taking cues from TikTok's hashtag challenges. TikTok's hashtag challenges act as prompts for users to create content. Creators often jump on the challenges in hopes of being featured high up on the challenge pages and getting exposure.
YouTube has begun experimenting with its own hashtag challenges.
Millions have been forced to stay home due to Coronavirus. YouTube helped get the word out by launching the Stay Home #withme challenge. The Stay home #withme challenge invited creators to make videos around activities anyone could do from home. 
YouTube consolidated all #withme videos under the hashtag (much in the same way TikTok does). YouTube doesn't typically create or promote specific content asks from its community. In making this change YouTube mirrored hashtag challenges.
These are big shifts for YouTube.
Search has been such a big part of the site, that playing a larger role in promoting 'discovery' seems as though the platform is looking to modify behavior in a significant way. Additionally, YouTube has historically been passive in content creation. With the launch of #withme YouTube clearly provided a prompt for the broader community.
These changes, which are influenced by TikTok, are likely providing data to YouTube to inform their 'Shorts' launch.